Save Time and Money So You Can Focus on Your Business — Not Your IT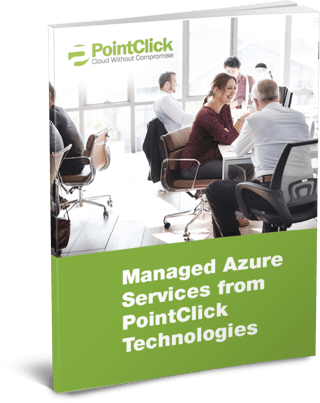 Are you experiencing poor server performance or spending too much time and money on IT consultations? Are problems that should be resolved in hours taking days or weeks to fix? With Managed Azure services from PointClick, you can enjoy our world-class service and eliminate IT pain with:
World-class support and issue resolution
Proactive 24/7/365 management and auditing
Regular performance and user reports
Ongoing monitoring and maintenance
Load and stress testing to identify issues before they occur
Offsite replication of production servers
Industry-standard security and privacy
Wide range of frameworks, operating systems, tools, and more
With PointClick's Managed Azure services, you'll have the freedom to tailor a solution to fit your needs. Experience better performance, enhanced business continuity and data safety, and most importantly, use the money you save to focus on growing your business.
To find out more about PointClick's Managed Azure Services and how you can begin saving now, download Managed Azure Services from PointClick Technologies today.
Start saving today – learn how now!